End of Year Checklist for Businesses (SMBs)
1. Balance AR/AP
Before you can address any other year-end planning or concerns, the place to start is with your bookkeeping. Your records and accounts need to be up-to-date and reconciled, providing you the state of your business and identifying issues to work on resolving in future goals.
Reconcile AR
Run financial reports
Analyze cash flow
With clean and reconciled books, you can run your reports for the year-end. With that year-end summary, your planning for 2024 can begin!
2. Year-End Tax Planning and Strategy
This section is where you talk with your accounting or CPA team. One thing to note is the Section 179 Tax Credit.
Essentially, Section 179 of the IRS tax code allows businesses to deduct the full purchase price of qualifying equipment and/or software purchased or financed during the tax year. That means that if you buy (or lease) a piece of qualifying equipment, you can deduct the FULL PURCHASE PRICE from your gross income. It's an incentive created by the U.S. government to encourage businesses to buy equipment and invest in themselves.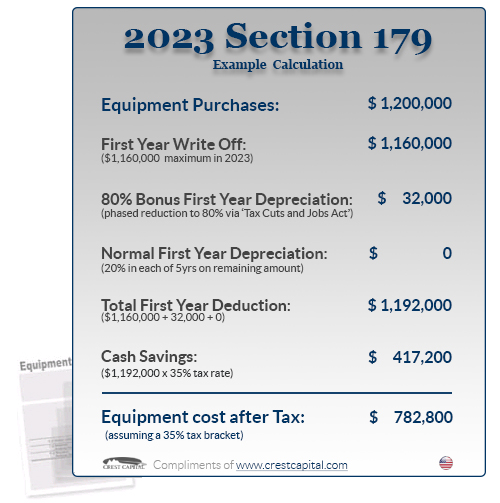 3. Verify vendor information
An easy way to tidy your business is to review your vendors – the partners you use throughout your business. By completing this documentation and contact list, your business and team have a comprehensive understanding of who to contact when assistance is needed. You not only verify who is doing what, but also compile a list of vendors to evaluate the support they bring to your business.
One area we want to highlight is technology, which leads us to the next checklist item. The benefit of having a technology service partner (TSP) is that you minimize the vendors you partner with. Phones go down, the internet is slow, computers are acting up – you always know who to contact.
4. Review IT
Your business uses technology daily to operate, which makes this an important checklist item. We recommend at a minimum, evaluating and reviewing your technology annually. A technology review scrubs through all aspects of your business to ensure every level of your technology is operating efficiently. A few areas to focus on:
We know your time is better spent focusing on your business and not figuring out when to replace obsolete equipment, why your computer will not print, how to stop a hack, unknown errors, or countless other technology glitches that occur. Simply put, as a Managed Service Partner, we handle the small stuff that interrupts your day so that it does not become big stuff later.
5. Human Resources
Now that the technical and financial items are checked off, shift focus to your team. Remember they are the greatest asset (and liability) to your business. Here are a few areas to consider when planning for 2024:
Current employee needs/wants
Future staffing needs
One item to never forget is to celebrate your 2023 accomplishments!
6. General Business
You are on checklist item #6 – take a step back to look at the big picture. Don't get caught up in the daily hustle, that is how you lose sight of the vision for your business. Now is the time to reflect and set goals for what's next.
Identify shortcomings and solutions
Determine business goals
Audit website and marketing materials
Look ahead
While you look ahead, here are 10 Considerations for 2024:
Technology – are you stuck in the past and not investing in the future?
Cybersecurity – does your business and team take cybersecurity seriously?
Data analytics – are you able to utilize your data efficiently?
Outsourcing needs – tax planning, compliance, human resources, technology, etc.
Exit planning – is your business in a good place as employees or management retire?
Fraud – do you have the appropriate checks and balances in place to catch internal and external fraud?
2024 is coming, and your business is ready for the challenge! Make it a great year for your business, team and clients.
One Call. One Team. One Goal – Helping Your Business Grow
Subscribe To Our Newsletter